Broccoli Cheese Soup
[ad_1]
Broccoli Cheese Soup
Easy35 minsVegetarian
The seasons they are a-changin' right now in Kansas City.
And I'm trying reeeeeeally hard to be happy about it.
But argh, let's be real.  I'm not happy about it.
Why?  It's still August!  It's supposed to be blazing, sunshine-y, flip-floppy, frozen-margarita-y, float-in-the-pool-y, fry-an-egg-on-the-sidewalk-y, gloriously HOT right now.  Instead, a surprise cool front has barreled through town, and everyone I know can't stop raving about how wonderfully "crisp" and "cool" and "refreshing" it feels outside, and autumn has apparently decided to make an early arrival this year.  Gahhh.
Let me be clear — I have nothing against this next season, and can appreciate a crisp, cool, and refreshing evening spent out on the patio with friends as much as, well, my friends.  It's just that the arrival of autumn always means that my absolute favorite season (by a landslide) has come to a sad end, and my least favorite season (that one we speak not of) is just around the corner, and the long wait must begin for the arrival of the most wonderful (summer)time of the year.
Le sigh.
Well, as must as I love a good lament about winter, my good friend, Maux, placed a moratorium on whining about unexpected weather in the Midwest awhile back.  So since she's probably reading this, I'll stop.  (I'll stop!)  And instead, I'll take a tiny bit of consolation in the fact that the cooler weather maybe at least somewhat justifies breaking out my favorite stock pot to make a big ol' batch of broccoli cheese soup.  It's comfort food at its best.  And since broccoli still happens to be in season, and my recipe is lightened up a bit with milk instead of cream, you can enjoy every last bite.  Even in August.  

I'm quite proud to admit that I've been on quite the broccoli kick lately, which is A Very Big Deal in my world.  Those freakishly tiny trees and I have never regarded one another fondly in the past.  But I've been on a mission to grow up and Be An Adult and teach my tastebuds who's boss — especially when it comes to a few certain cruciferous vegetables — and shockingly, success seems to be happening.  I've actually been enjoying broccoli more and more!  And — don't fall off your chair — even occasionally craving it.
I know, almost as unbelievable as autumn arriving here in the middle of August.  Crazier things are happening lately in Kansas City.
But of course, after roasting and sauteing and salad-ing and doing all sorts of other healthy things with it, I suddenly started craving the traditionally less-healthy (yet oh-so-beloved) classic excuse for eating your greens.
Broccoli cheese soup, of course!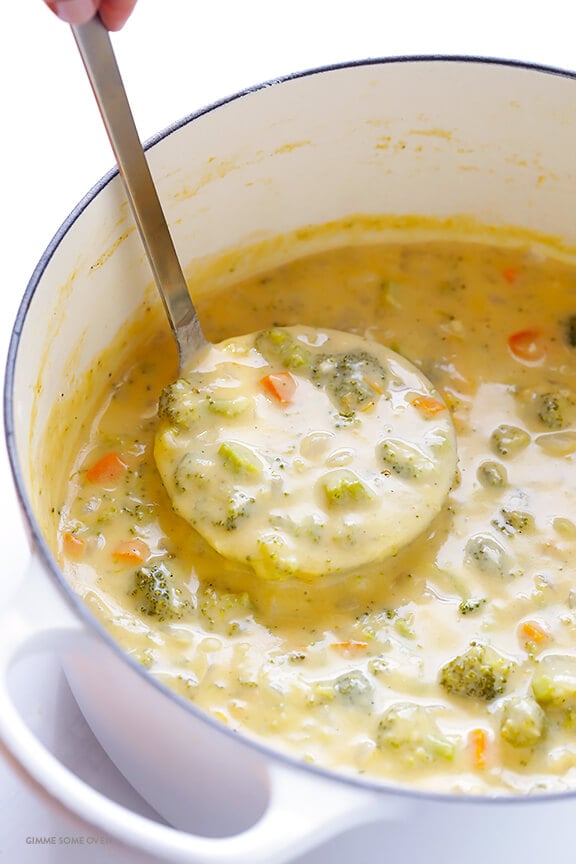 Or broccoli cheddar soup.
Whatever you want to call it, this delicious soup is always a crowd favorite and seems to show up on soup menus everywhere.  What can we say — people love their broccoli cheese soup!
But the problem with this soup in restaurants?!  It's usually absolutely loaded with heavy cream, which I find highly unnecessary.  Similar to my favorite Potato Soup recipe, I prefer to make my creamy soups with a simple milk and stock and roux base, which is significantly lower in fat, yet still tastes ultra-rich, creamy, thick, and absolutely delicious.  And instead of throwing in an enormous amount of cheddar cheese?  Go for a single block of sharp cheddar cheese.  (Or even better, go with extra-sharp if it's available.)  You get way more flavor per calorie, which allows you to use less cheese and still get plenty of flavor.  Win-win!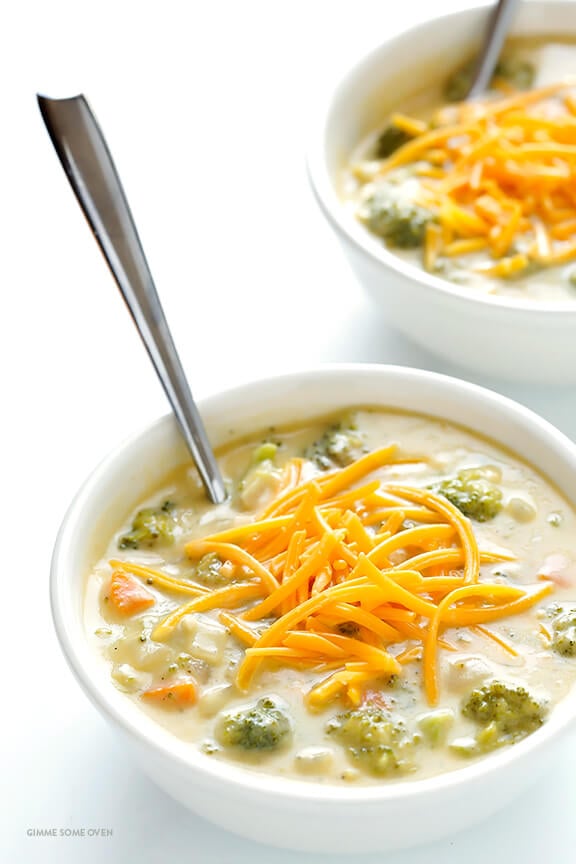 As far as the broccoli goes, you can puree it smooth or keep it as chunky as you'd like.  Just be sure and add lots and lots of it in, so that you can soak up all of its green good-for-you-ness, which is bound to help you make it through a cold winter…or a chilly August…or any time you want to tap into your inner Dana Carvey and get to work choppin' broccoli.
Enjoy!

Yield: 6-8 servings
Broccoli Cheese Soup
This classic Broccoli Cheese Soup recipe is simple to make, lightened up with milk instead of cream, and chocked full of the delicious broccoli and cheddar we all love!
Prep: 10 mins
Cook: 25 mins
Total: 35 mins
Ingredients:
3 tablespoons butter or olive oil
1 small white onion, peeled and finely diced
2/3 cup diced carrots (about 1 large carrot, peeled)
3 cloves garlic, minced
1/4 cup flour
3 cups good-quality vegetable or chicken stock
2 cups milk (I used 2%, but any kind of milk will work)
3-4 cups chopped broccoli florets (about 1 medium head of broccoli)
1 teaspoon Dijon mustard (optional)
1 teaspoon salt
1/2 teaspoon black pepper
8 ounces freshly-grated* part-skim sharp cheddar cheese, plus more for serving
Directions:
Heat butter (or olive oil) in a large stockpot over medium-high heat until melted.  Add onion and carrots and saute for 4-5 minutes, stirring occasionally, until both are cooked through and the onion is translucent.  Stir in the garlic and saute for an additional 1 minute, then stir in the flour and saute for an additional 1 minute.
Whisk in the chicken stock until it is evenly combined.  Stir in the milk, broccoli, mustard, salt and black pepper until combined.  Continue cooking, stirring every few minutes, until the soup reaches a simmer.  Reduce heat to medium and continue to simmer the soup for another 6-8 minutes, until the broccoli is cooked through and soft.  Stir in the freshly-grated cheddar cheese until it is completely melted and evenly mixed into the soup.
Serve immediately, topped with extra cheese if desired.
*Be sure to freshly-grate the cheddar (yourself) from a block of cheese for this recipe.  The store-bought shredded bagged cheeses have a coating on them that makes it difficult for the cheese to smoothly melt, so it's better to grate the cheese yourself.  If you don't have a grater, you can also just dice the cheese into small cubes which will also melt well.
Difficulty: Easy
Category: Vegetarian
If you make this recipe, be sure to snap a photo and hashtag it #gimmesomeoven. I'd love to see what you cook!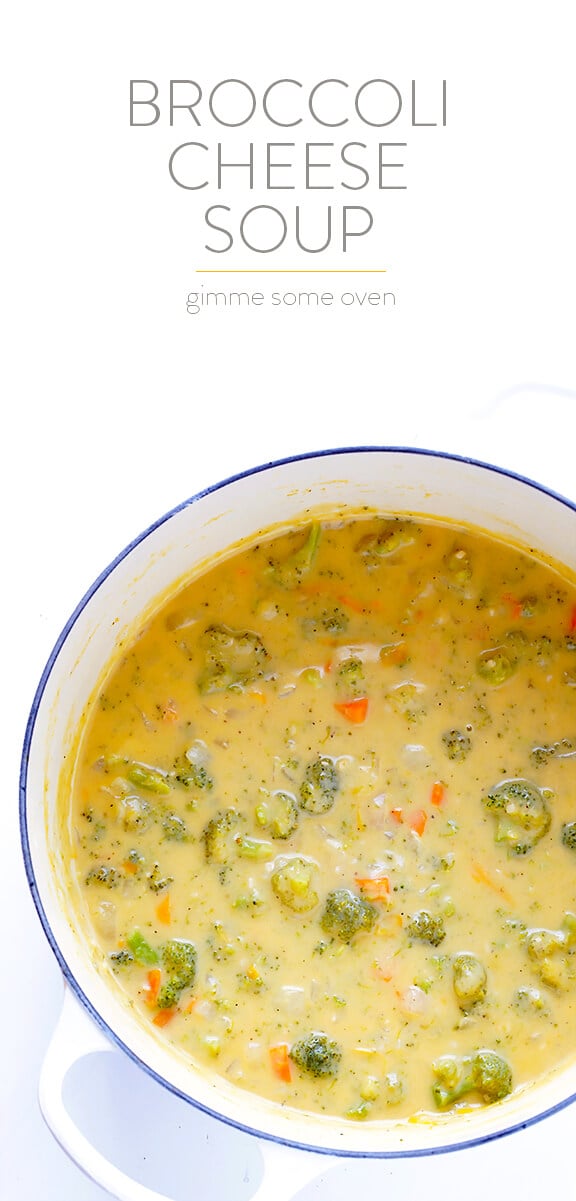 [ad_2]
Source link : http://www.gimmesomeoven.com/broccoli-cheese-soup-recipe
The post Broccoli Cheese Soup appeared first on .